TOUR & PRICE INFORMATION


$3300*






*This all-inclusive land cost is is per person, on a single occupancy basis.

The cost of the expedition includes all photo shoots, sightseeing and transfer services as per the itinerary, all accommodations, all meals (breakfast, lunch, afternoon tea, and dinner), Bhutan government tariff, entry visa, departure tax, a licensed English-speaking guide, a driver and vehicle, and includes a kitty (per person) of $140 for tips and model fees (if any). It does not include any expenses of personal nature, laundry or any beverages.

The cost of international and Druk Air flights from the USA (or elsewhere) to and from Bhutan are not included, and must be arranged so that you arrive in Bhutan on October 3, 2008. Only Druk Air flies in and out of Bhutan, and has flights from/to Bangkok, Calcutta and Delhi. Druk Air flights can only be booked through a Bhutan travel agent and are not included in the price of the photo expedition.


A deposit of $300 is required to secure a place on the Land of the Druk Yul photo expedition. This down payment is fully refundable if notice is given 60 days prior to the departure date. The balance of the cost is due 60 days prior to departure date.

Important Notice
We will be traveling to areas that are 8000-10,000 feet high. You may experience altitude sickness on some occasions, so please take appropriate medical advice before travel.

The Travel Agent
Our travel agent is Jachung Travel, a Bhutanese-owned tour company based in the Bay Area of California in the United States. This is the same company that arranged the 2006 photo expedition to Bhutan.

A Note On Our Hotel Accommodations:
Tourist infrastructure in Bhutan is still in its infancy, and hotel accommodations are rustic. We shall be staying in small Bhutanese-owned hotel and guesthouses, and while these accommodations are generally comfortable and clean, the quality will be uneven from one hotel to the other. All rooms will have private bathrooms.

WAIVER OF LIABILITY
I assume no responsibility for accidents or injury to individuals participating in the Land of the Druk Yul Photo Expedition 2006. You will be requested to read, accept and sign an agreement which releases me from any responsibility of liability in the event of any of the situations mentioned below.

I also assume no responsibility if a traveler is refused entry into a country for any reason. It is the traveler's sole responsibility to ensure all travel documents are valid and effective. A passport, valid for six months after the intended date of return is required in many cases for travel overseas. Some countries may require visas for US or non-US citizens. Please check with the corresponding consulates prior to leaving. This is the traveler's responsibility.

I cannot assume any liability whatsoever for injury, sickness, damage, death, loss, accident or delay to person or property due to an act of negligence of or default of any travel agent, hotel, carrier, restaurant, company, airline, or person rendering any of the services included in Land of the Druk Yul Photo Expedition 2008, or by act of God, act of war or terrorism. Further, no responsibilities are accepted for any damage, changes or delays due to sickness, pilferage, labor disputes, machinery breakdown, quarantine, government restraints, weather or other causes beyond my personal control. No responsibility is accepted for any additional expense, omissions and schedule changes, forced stopovers, rerouting or acts of any governments or authority. I reserve the right to decline or accept any person as a member of any tour or to cancel or alter the tour without notice. It is also the responsibility of the traveler to keep informed on deposit and payment date requirements. It is highly recommended that all individuals obtain adequate travel insurance.
Bhutan, Land of the Druk Yul, is a land wrapped in myth and legend, hidden from the rest of the world by its mountains. Its legends swirl around supernatural beings, around ancient monastery fortresses and around its Tibetan Buddhist culture. Bhutan's festivals, or Tsechus, offer colorful mask dances and religious performances depicting the unparalleled cultural heritage of this enigmatic country.
Almost replicating our successful 2006 itinerary, we will travel to the valleys of Bumthang in central Bhutan; the holiest and most spectacular in the country. This time though, our principal destination is to attend and photograph the Tamshingphala Tsechu, and the Tangbi Mani festival in the valleys. Our route will take us from Paro in western Bhutan all the way to its heartland, and we will photograph its villages, ancient monasteries, temples and fortresses along our route.
Participants who are interested in multimedia will be helped to create such projects from their inventory of photographs, and learn how to control story length, intent, pace, use of music and ambient sound, narration, field recordings and interviews. An example of such multimedia projects is The Dancing Monks of Prakhar slideshow.
Important Notice: The Land of the Druk Yul photo-expedition is limited to 8 photographers on a "first registered first in" basis. (The 2006 photo expedition was sold out within days, so book early.)

Click Here To Register Your Name
Click Here for Previous Bhutan 2006 Itinerary
Day 1 Friday October 3, 2008 Paro
We arrive in Paro by 10:00 am and after clearing immigration we check in our hotel in time for lunch. This afternoon, we will photograph at the Paro Dzong and the Kyichu Lhakhang, the oldest temple in the country. We will walk along some of the town's streets and get a flavor of Bhutanese lifestyle.
Dechen Hill Cottages Hotel
Day 2 Saturday October 4, 2008 Paro-Thimphu
After an early breakfast, we hike (optional) up a path to Taktsang Monastery, also known as Tigerís Nest, Bhutanís most famous and scenic monastery. The hike will take about 4 hours round trip. After lunch we drive to Thimpu (40 miles/2 hours), and photograph at the Simtokha Dzong, which is not only the oldest fortress but also houses the School of Buddhist Studies. In the evening, we will stroll in the capital's streets. Jumolhari Hotel
Day 3 Sunday October 5, 2008 Thimphu
It's an early wake up for us to photograph at the Zangto Pelri Lhakhang temple in the heart of Thimpu, where daily prayers are performed by Bhutanese pilgrims. After breakfast. we drive to the interesting Drubthob Goemba, which houses the Zilukha nunnery. We will then photograph at the Dechen Phodrang monastic school. Subject to time, we will photograph the weekly farmersí market.
Jumolhari Hotel
Day 4 Monday October 6, 2008 Thimphu- Wangduephodrang
After breakfast we drive to Wangduephodrang (45 miles/3 hours), with a stop en route at Dochu La (10,000 feet). On clear days there are spectacular views of the Himalayas, a large chorten and a multitude of prayer flags. We continue our drive to Punakha, the former capital of Bhutan, and visit Punakha Dzong, one of the most beautiful dzongs in Bhutan. We will stop at Khamsum Yulephelma Chorten in Punakha. Dragon's Nest
Day 5 Tuesday October 7, 2008 Wangduephodrang-Punakha
We will visit Khamsum Yulephelma Chorten in Punakha, and later stop at Metshina Village and trek through the flat rice fields to Chimi Lakhang, which is a fertility temple. Later you will visit Rinchen Gang village and the Dzong in Wangdue and explore Wangdue town.
Dragon's Nest
Day 6 Wednesday October 8, 2008 Wangduephodrang-Trongsa
Today we drive towards Trongsa (80 miles/5 hours). Most of our drive is through forests of oak trees and rhododendrons, until we arrive at Gantey village, where we visit Gantey Gompa, the only Nyingmapa monastery in western Bhutan. From there, we continue to Trongsa, the ancestral home of Bhutan's royal family, and stop by the Trongsa Dzong which marks the boundary between eastern and western Bhutan. This is a spectacular winding road, crossing the 11,000 feet-high Pele La pass. We shall browse through the Trongsa shops and town in the afternoon.
Yanghil Resort or Norling Hotel
Day 7 Thursday October 9. 2008 Trongsa - Bumthang Valley
We will revisit and photograph the Trongsa Dzong which represents the purest Bhutanese monastic architecture. It is here that 25 small temples (some built in 1543) house sacred images and religious relics. Delicate wood carvings and beautiful frescos decorate the walls and pillars. We will also photograph the monks who tend to the temples, and any pilgrims who are visiting. We then drive towards Bumthang (40 miles/3 hours), the religious heartland of the nation, with lush valleys and hilly forests. Along the way we may stop at a yethra (textile weaving) cottage industry, where the yethras are designed with patterns unique to Bumthang, and photograph some of the weavers at their looms. This drive presents wonderful photo opportunities as we cross rivers and pass chortens with water-driven prayer wheels. We will stay in Jakar. Jakar Lodge or Wangdichholing Lodge
Day 8 Friday October 10, 2008 Tamshingphala Festival
We will attend a full day of the Tamshing festival! The festival, held in one of Bumthang's valleys, is a small village festival celebrated in the Temple of Tamshing. This festival is similar to other religious festivals in the region, but has characteristic dances to commemorate the deeds of the Tantric master Pamasambhava. This is the only time of year that families from the area gather together in a festival, all wearing their finest dress.
Jakar Lodge or Wangdichholing Lodge
Day 9 Saturday October 11, 2008 Bumthang Valley
After breakfast, we tour the area, and stop at the Jakar Dzong, the administrative center of the valley; Jambey Lhakhang, one of the oldest monasteries in Bhutan, dating from the introduction of Buddhism in Bhutan; and the sacred Kurjey Lhakhang, where Guru Rinpoche left his body imprint on the cave when he was meditating. Later, we stop at Tamshing Lhakhang, which houses interesting religious Buddhist paintings, and see Mebar Tsho (Burning Lake). We will spend part of the evening strolling through Bumthang village. Jakar Lodge or Wangdichholing Lodge
Day 10 Sunday October 12, 2008 Bumthang-Ura
Today we will photograph in the Ura area. Ura is the highest of Bumthang's Valleys and is believed by some to have been the home of the earliest inhabitants of Bhutan. Cobbled streets and a medieval feel give Ura villages an attractive atmosphere, and houses are unusually clustered The old women of Ura still wear sheepskin shawls which double as blankets and cushions.. Jakar Lodge or Wangdichholing Lodge
Day 11 Monday October 13, 2008 Tangbi Mani festival
Today is the exciting Thangbi Mani Festival; the rural festival held in the courtyard of Thangbi monastery, built in 1470. The monastery courtyard becomes a stage for enactment of ancient Buddhist tales. Dancers clad in colorful costumes and masks act out themes Ė morality plays, purification rites, and the triumph of a virtuous life. We will attend the fire blessing, where the gathered multitude run through towers of fire in an act of receiving blessing as well as purification by fire. Thangbi village is reached by a 20-minute easy walk from the road-head near Jakar. Jakar Lodge or Wangdichholing Lodge
Day 12 Tuesday October 14, 2008 Tangbi Mani festival
We will spend our second day photographing the Thangbi Mani festival. We will arrange for private photo sessions with the dancers and monks (subject to their agreement).
Jakar Lodge or Wangdichholing Lodge
Day 13 Wednesday October 15, 2008 Bumthang- Wangduephodrang
Early morning, we retrace our route back and head for Wangduephodrang (7 hours). No photography is scheduled unless we chance upon opportunities along the way, be those involve people or even yaks!
Dragon's Nest
Day 14 Thursday October 16, 2008 Wangduephodrang -Thimpu
After breakfast we will drive back to Thimphu (3 hours). In the afternoon, we walk to Tango (Horse's Head) monastery. It will take about 45 minutes to the monastery. Tango Monastery is a Buddhist college, and it's the residence of the Desi Tenzin Rabgye, a young boy who is the reincarnation of the 16th-century monk who built Tango. Depending on schedule, we will either overnight in Thimpu, or continue to Paro and overnight there instead.
Jumolhari Hotel or Dechen Hill Cottages Hotel
Day 15 Friday October 17, 2008 Thimpu-Paro-Outgoing Flight
We drive to Paro (2 hoursí drive) in the morning for our return flight to the USA.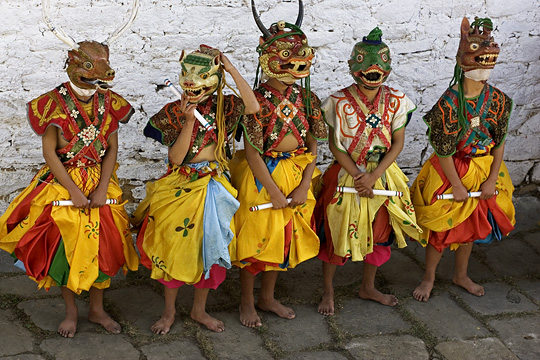 Images & Itinerary copyright Tewfic El-Sawy -