TOUR & PRICE INFORMATION


$2555**






Tour Cost:
$2555(twin share based on 8 members)
$280 (Single Supplement)
$150 (Tip Kitty for fixers, musicians, etc)


The cost of the expedition includes photo shoots, sightseeing and transfer services as per the itinerary, all accommodations, meals as per the itinerary, guides/fixers (subject to locations), a driver and vehicle for transfers from and to the airport, and land travel from Marrakesh, Ouarzazate and Essaouira. It does not include any expenses of personal nature, laundry or any beverages.

The cost of international flights from the USA (or elsewhere) to and from Morocco are not included, and must be arranged so that you arrive in Morocco on 19 June, 2009.

A deposit of $300 is required to secure a place on the Gnawa Festival photo expedition. This down payment is fully refundable if notice is given 60 days prior to the departure date. The balance of the cost is due 60 days prior to departure date.

Important Notice
Although Essaouira is regarded as safe, the annual festival is visited by thousands of tourists, whose presence brings pickpockets and hustlers. So leave anything of value at home!

The Travel Agent
Our travel agent is based in California, and specializes in Morocco-bound tours.

A Note On Our Hotel Accommodations:
We shall be staying in a modern 4-star hotel in Marrakech, and a riad within the walls of the old city (medina) of Essaouira. Riads are traditional Moroccan houses located inside old city districts that are several stories high, and that have an interior patio. All rooms will have private bathrooms.

WAIVER OF LIABILITY
I assume no responsibility for accidents or injury to individuals participating in the Gnawa Festival Photo Expedition. You will be requested to read, accept and sign an agreement which releases me from any responsibility of liability in the event of any of the situations mentioned below.

I also assume no responsibility if a traveler is refused entry into a country for any reason. It is the traveler's sole responsibility to ensure all travel documents are valid and effective. A passport, valid for six months after the intended date of return is required in many cases for travel overseas. Some countries may require visas for US or non-US citizens. Please check with the corresponding consulates prior to leaving. This is the traveler's responsibility.

I cannot assume any liability whatsoever for injury, sickness, damage, death, loss, accident or delay to person or property due to an act of negligence of or default of any travel agent, hotel, carrier, restaurant, company, airline, or person rendering any of the services included in the Gnawa Festival Photo Expedition, or by act of God, act of war or terrorism. Further, no responsibilities are accepted for any damage, changes or delays due to sickness, pilferage, labor disputes, machinery breakdown, quarantine, government restraints, weather or other causes beyond my personal control. No responsibility is accepted for any additional expense, omissions and schedule changes, forced stopovers, rerouting or acts of any governments or authority. I reserve the right to decline or accept any person as a member of any tour or to cancel or alter the tour without notice. It is also the responsibility of the traveler to keep informed on deposit and payment date requirements. It is highly recommended that all individuals obtain adequate travel insurance.
Essaouira, formerly known by its Portuguese name, Mogador, is beloved by Moroccans for its beauty, its near-perfect climate — even during the African summer, the ocean breeze keeps the ancient city pleasant in the day and cool at night — and its friendly inhabitants.
During the Essaouira June music festival, the small town is host to 25 Moroccan Gnawa musical brotherhoods, whose exuberant, hypnotically rhythmic and joy-infused music draws an estimated 400,000 fans from Morocco and across North Africa, Europe and North America. There are also 30 other jazz fusion, rock, reggae, African, Brazilian, Afro-Cuban and hip-hop acts from more than a dozen countries performing on the stages in and around Essaouira's walled, maze-like medina.
Gnawa (or Gnaoua) is a word used to define a Moroccan music style and a Muslim religious brotherhood. The patron saint of the Gnawa is Bilal al Habashi, an Ethiopian who was the first African to convert to Islam and its first muezzin.
:::A video of Gnawa performers on YouTube:::
Unlike other music festivals, the Gnawa festival's setting, in a small, friendly and almost impossibly picturesque, wind-cooled seaside city, is as magical and mesmerizing as the music. Essaouira's medina is small, and no cars are allowed within its walls. It's small enough to easily walk from end to end, and its narrow alleys are incredibly photogenic. The predominant colors of its walls are white and its arabesque doors are indigo-blue.
The objectives of our Gnawa Festival Photo-Expedition are many; in the daylight hours, we will seek to photograph the daily street life of the medina, the Gnawa processions and rehearsals, while in the evenings we intend to photograph the actual gigs that make the Festival such a unique venue. All of the gigs are on stages within walking distance from each other.
We will also travel to photograph in Marrakesh, the fabled pink city with Arab, Berber and African influences...the city of labyrinthine alleyways and medieval walls. We will photograph in its streets, and spend time in the Djema El-Fna, where all kinds of performers capitvate the crowds. Also on our itinerary is the desert city of Ourzazate, gateway to the desert and to Africa.
The Gnawa Festival Photo-Expedition is ideal for participants interested in multimedia, and willing to create visual projects from their inventory of photographs, and learn how to control story length, intent, pace, use of music and ambient sound, narration, field recordings and interviews.
Important Notice: The Gnawa Festival Photo-Expedition is limited to 10 photographers on a "first registered first in" basis. I'm unable to accept any more due to limited accommodation in the riad (hotel).

::Click Here For Information & Registration::
::Visit The Travel Photographer's Website::
::Read The Travel Photographer's Blog::
Day 1 Depart USA Thursday, June 18 - Arrival Casablanca Friday June 19, 2009
Arrival Casablanca-Drive to Marrakech
We fly from New York's JFK airport to Casablanca and drive to our hotel in Marrakech (2.5 hours). We spend the late afternoon-early evening photographing in Djema El-Fna. This is an ancient main square which is populated by owners of Barbary apes, water sellers (guerrab) with traditional leather water-bags and brass cups, snake charmers, folk dentists, Chleuh dancing-boys, magicians, and peddlers of traditional medicines.
L'Atlas Hotel (D)
Day 2 Saturday June 20, 2009 Marrakesh
After an early breakfast, we will tour the city featuring stops at the 16th century Saadian Tombs, "Dar Si Said", the fragrant Menara Gardens, the Koutoubia Minaret and the magnificent Bahia Palace. After lunch, we will photograph the Ben Youssef madrasa whose courtyard combines intricate Maghrebi forms and styles. Walking from the madrasa through the medina's alleys, we will pass through the various craftsmen at their places of work centers, photographing the activities. We will also focus our attention on the ancient Jewish quarter of the city known as Mellah, which was was established in 1558. There are several old synagogues in the area, as well as the Jewish cemetery, where some Jewish marabouts or local saints, are buried. L'Atlas Hotel (B,D)
Day 3 Sunday, 21 June, 2009 Marrakech-Ouarzazat
We drive towards Ouarzazat via the Tichka pass which offers an impressive landscape in the heart of the Atlas mountain chain. On our way, we will stop by Kasbah Ait Ben Haddou, an intriguing red earth castle lining the ancient Route of the Kasbahs. After lunch, we visit the Taourirt and Tifoultout Kasbahs, ancient residences of the rulers known as the Glaoui. Kenzi Azghor (B,D)
Day 4 Monday 22 June, 2009 Ouarzazate
We will spend the whole day in Ouarzazate photographing its street life and activities. Ouarzazate is home to the movie studio where scenes from Bertulucci's "The Sheltering Sky", Spielberg's "Gladiators", "The Last temptation of Christ", and "Lawrence of Arabia" were filmed in and around the area renowned for its Berber ceramic work and fine carpet making. A local guide will be available, along with your driver, for our excursions. Later, we will also photograph the reputed Ouarzazate dunes at sunset.
Kenzi Azghor (B,D)
Day 5 Tuesday 23 June, 2009 Ouarzazate-Marrakesh-Eassouira
Today our group will depart from Ouarzazate, retrace our steps to Marrakesh ending in Essaouira for the much anticipated Gnawa Music Festival.
Riad Mimouna (B)
Day 6 Wednesday June 24-Day 9 Saturday June 27, 2009 Essaouira
Essaouira is a small walled, maze-like medina town on Morocco's Atlantic Coast, and is host to Moroccan Gnawa musical brotherhoods, whose exuberant traditional music draws crowds from all over the world. During our stay here, we will photograph in the streets of the town, especially beautiful because of the contrast between its white walls and blue doors/window shutters. No cars are allowed within the walls of the medina (which is on the UNESCO World Heritage List), so be prepared to walk around. In the late afternoons and evenings, we will photograph the Gnawa musicians...as they parade in the alleys of the medina, during their rehearsals and during their performances. Riad Mimouna (B)
Day 10 June 28, 2009 Essaouira-Casablanca
Today we travel on the coastal highway to Casablanca (220 miles), which we reach in the late afternoon. The rest of the day will be at your leisure.
Hotel Maamoura (B)
Day 11 June 29, 2009 Casablanca
We are driven to the airport for our flight back to the United States.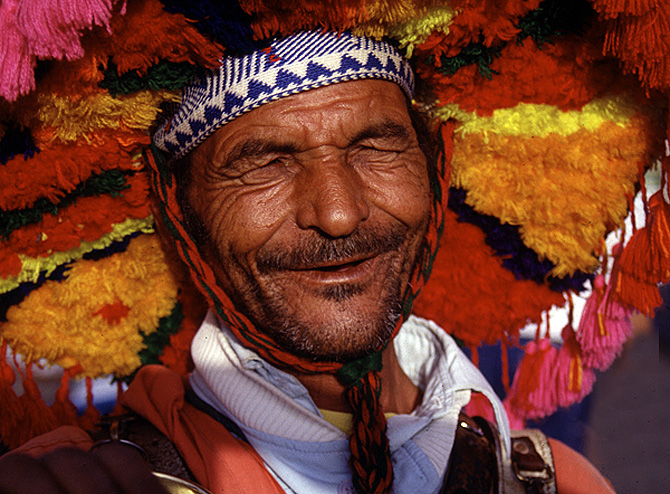 Images & Itinerary copyright Tewfic El-Sawy -