On this two-part photo expedition-workshop, we shall immerse ourselves in documenting (1) the street theaters in two of the most sacred cities in India: Vrindavan and Varanasi, (2) the esoteric cultures of the real and fake sadhus who proliferate these sacred cities, (3) the tradition of widow exiling to ashrams and (4) the exuberance of the Holi festival...and much more.
OUTLINE OF EXPEDITION/MULTIMEDIA WORKSHOP
MULTI-PRONGED: This photo expedition/multimedia workshop consists of 2 parts, so our objectives will be multi-pronged. The mad exuberance of Holi in Vrindavan is the main 'project' of this particular photographic experience . Our ancillary objectives are: the tradition of widows in exile in both Vrindavan and Varanasi, the Aghora sadhus and the more pedestrian-charlatan ascetics who roam the ghats and ashrams in Varanasi, the Muslim Sufi shrines in Varanas, and much more.
OBJECTIVES: Emulating real-life photo assignments, the aim of the workshop is to assist its participants produce multimedia bodies of work ready for publishing. Participants will merge their still photography and audio to create compelling narratives. This is largely for color photography, but black & white is certainly an option. Participating photographers will have to own/use portable audio recorders, and have specialized audio-slideshow software (Soundslides) on their laptops.
WHO FOR: The Sacred: Varanasi & Vrindavan Photo Expedition-Workshop is structured for photographers interested in documentary photography, ethno-photography and multimedia, and for those ready to create visual projects from their inventory of photographs, and learn how to control story length, intent, pace, use of music and ambient sound, narration, field recordings and interviews.
HOLI FESTIVAL: is a spring event also known as festival of colors. It is an ancient Hindu religious festival which signifies the victory of good over evil, the arrival of spring, end of winter and for many, a festive day to meet others, play and laugh, forget and forgive, and repair ruptured relationships. It's at its height in the sacred city of Vrindavan, where the Banke Bihari temple is the epicenter for the color throwing festival. Earlier, it's at the Nandagram temple and Ladali temple near Nandgaon in Barsana. As the prelude of Holi, the women in Braj theatrically and playfully beat men with sticks in a ritual is called Lathmar Holi. Both Lathmar Holi and the main event are unforgettable photographic experiences.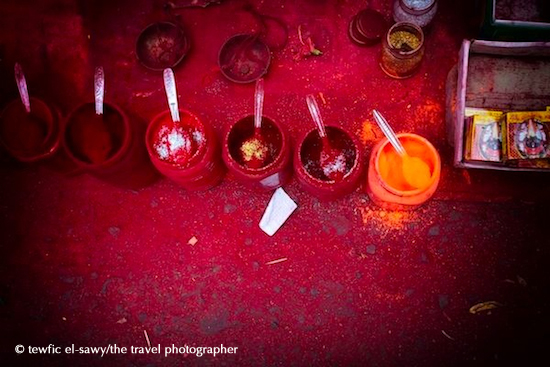 HOLI PRECAUTIONS: Since Holi involves throwing color powder and/or water at participants and devotees, protection for our equipment and ourselves is mandatory. Participants will need to have an adequate supply of rain sleeves, plastic bags and duct tape for equipment, along with headscarves/caps, thick sunblock and goggles for own protection.

HOTELS: The accommodations for The Sacred: Varanasi & Vrindavan Photo Expedition-Workshop will be top-end and boutique hotels.
The Travel Photographer's Photo~Expeditions™ are best described as a mixture of documentary photojournalism, ethno-photography and travel photography" adventures. As with other previous expeditions, The Sacred: Varanasi & Vrindavan Photo Expedition-Workshop will include both documentary-style (candid and on-the-run) photography, as well as posed photo sessions with selected people we may encounter.
Tewfic El-Sawy is The Travel Photographer, a freelance photographer who specializes in documenting endangered cultures and traditional life ways of Asia, Latin America and Africa. He's enthusiastic about documentary-travel photography and produces multimedia stories, merging still photography and ambient sound.
His favorite destinations are to South and South East Asia, and is particularly interested in documenting Sufism and syncretic religious traditions of these regions. He's the founder of the popular The Travel Photographer blog, and is also a faculty member of the Foundry Photojournalism Workshop, tutoring the essentials of multimedia to emerging photojournalists.
Important Notice: The Sacred: Varanasi & Vrindavan Photo Expedition-Workshop is limited to 8 photographers only. Participation may be subject to a portfolio review.
::CLICK HERE FOR EMAIL REGISTRATION OR TO ASK QUESTIONS::
::WHO IS THE TRAVEL PHOTOGRAPHER?::
::THE TRAVEL PHOTOGRAPHER'S SHOWCASE WEBSITE::
::THE TRAVEL PHOTOGRAPHER'S WORK WEBSITE::