On this photo expedition-workshop, we start by exploring the pulsating street life of bustling Hanoi during the Mid Autumn Festival (known as Tet Trung Thu) celebrations, then traveling to the country's northwest to document the colorful villages and ethnic minority tribes around Sapa, and the ethnic markets of Bac Ha, Coc Ly, Sin Cheng, and Can Cau, then travel back to Hanoi and fly to Hoi An to photograph the daily life in this ancient port and fishing city.
OUTLINE OF EXPEDITION/MULTIMEDIA WORKSHOP
MULTI-PRONGED: This photo expedition/multimedia workshop's objectives will be multi-pronged; documenting the street (and alleys) life of Hanoi, especially exuberant during the Mid Autumn Festival, photographing the traditional weekly markets in North Western Vietnam (Lao Cai province) where the photogenic hill tribes gather to buy, sell and barter their products, livestock and goods. We will also delve in ethno-photography during our walks into the hill villages and meet with the local minorities. At the tail end of the expedition, we shall travel to Hoi An , and photograph its street life amongst the traditional ochre walls of its buildings, along with its fishing culture.
OBJECTIVES: Emulating real-life photo assignments, the aim of the workshop is to assist its participants produce multimedia bodies of work ready for publishing. Participants will merge their still photography and audio to create compelling narratives. This is largely for color photography, but black & white is certainly an option. Participating photographers will have to own/use portable audio recorders, and have specialized audio-slideshow software (Soundslides) on their laptops.
WHO FOR: The People of Tây Bắc : Photo Expedition-Workshop is structured for photographers interested in documentary photography, ethno-photography and multimedia, and for those ready to create visual projects from their inventory of photographs, and learn how to control story length, intent, pace, use of music and ambient sound, narration, field recordings and interviews.
Tết Trung Thu Festival: Traditionally, the festival celebrated harvest and is held on the 15th day of the eighth month in the Chinese calendar. In recent years, it's an occasion for young women (and men) to walk the streets of Hanoi's Old Quarter to show off new clothes, and to wear over-sized fake eyeglasses, and Minnie Mouse ears or antlers on their heads. The Mid-Autumn Moon Festival is one of the two most popular festivals in Vietnam, and has been important to families in Vietnam for centuries. The streets in Old Hanoi are crowded, and public traditional dances include the dragon dance and the flower dance.
For an audio slideshow, view The Travel Photographer's Hilltribes In The Mist
For The Travel Photographer's Vietnam galleries, see Vietnam In Daguerrotypes, and Vietnam Vignettes.
For more on the Tết Trung Thu Festival, view The Travel Photographer's gallery: The Girls of Tết Trung Thu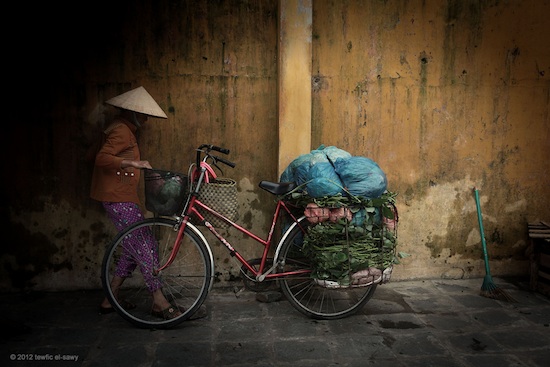 HOTELS: The accommodations for The People of Tây Bắc : Photo Expedition-Workshop will be top-end boutique hotels in Hanoi, Sa Pa and Hoi An, and 3-4 star hotels in Lao Cai and Bac Ha.
The Travel Photographer's Photo~Expeditions™ are best described as a mixture of documentary photojournalism, ethno-photography and travel photography" adventures. As with other previous expeditions, The People of Tây Bắc : Photo Expedition-Workshop will include both documentary-style (candid and on-the-run) photography, as well as posed photo sessions with selected people we may encounter.
Tewfic El-Sawy is The Travel Photographer, a freelance photographer who specializes in documenting endangered cultures and traditional life ways of Asia, Latin America and Africa. He's enthusiastic about documentary-travel photography and produces multimedia stories, merging still photography and ambient sound.
His favorite destinations are to South and South East Asia. He's the founder of the popular The Travel Photographer blog, and is also a faculty member of the Foundry Photojournalism Workshop, tutoring the essentials of multimedia to emerging photojournalists.
Important Notice: The People of Tây Bắc : Photo Expedition-Workshop is limited to 8 photographers only. Participation may be subject to a portfolio review.
::CLICK HERE TO BOOK OR TO ASK QUESTIONS::
::WHO IS THE TRAVEL PHOTOGRAPHER?::
::THE TRAVEL PHOTOGRAPHER'S SHOWCASE WEBSITE::
::THE TRAVEL PHOTOGRAPHER'S WORK WEBSITE::