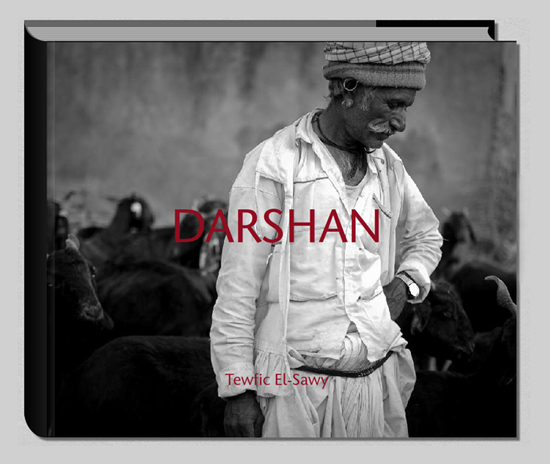 DARSHAN
A New Book By Tewfic El-Sawy, The Travel Photographer
Travel photographer Tewfic El-Sawy traveled to India no less than 18 times over the past decade, documenting its various distinct cultural and ethnic groups, as well as spectacular religious rites and rituals. While he traveled to most countries in Southeast Asia, as well as Nepal, Sri Lanka, and countries in Europe, South America and Africa, his favorite travel destination is India.
Darshan is a collection of carefully selected black and white photographs made during his trips to India, which range from scenes in the labyrinthine streets of Old Delhi to age-old rural rites of Theyyam in Kerala; from portraits of Sufis revering at shrines to widows in Vrindavan; from pilgrims at the Maha Kumbh Mela to sadhus in Varanasi; from practitioners of the ancient art of Kathakali to the tribal nomads of Gujarat and Rajasthan.
70 Pages (Black & White Photographs).
Large Landscape 13x11 inches (33x28 cm) with ImageWrap or Dust Jacket hard cover ($85)

To Purchase Your Copy Large Landscape: Darshan
Tewfic El-Sawy specializes in documenting endangered cultures and traditional life ways of Asia, Latin America and Africa. His photographs have been featured by some of the largest adventure travel companies in the United States and Britain, and published in books as well as being in multinational corporations' art collections. He leads photo-expeditions based on creative itineraries aimed at documenting cultural and religious traditions.